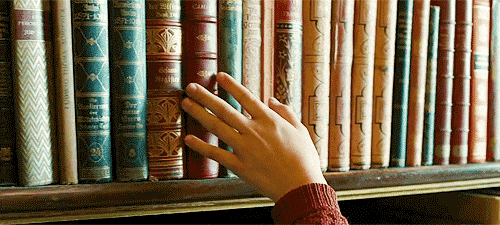 1. How do you find out about new books to read?
The bookstagram community on Instagram, BOOKTUBE, and blogs. Sometimes I visit our local bookstore and check out the catalog for releases, but basically Instagram is the best source for new releases. Oh and I often go to Goodreads for some recommendations.
2. How did you get into reading?
I was in high school when I got into reading, when I was in class my friend lend me a local Filipino book which was entitled "Ang mga kaibigan ni Mama Susan" by Bob Ong, the author of the book was very popular at that time and the book was in the paranormal genre so I said to my self that I should give it a try and I ended up loving it. Well at first I was hesitant but yeah I'm happy now that reading is one of my favorite things to do. By the way my first International novel that I've read was Miss Peregrine's Home for Peculiar Children by Ransom Riggs.
"If you don't like to read, you haven't found the right book." – J.K. Rowling

3. How is your taste in books change as you've gotten older?
I should say that it didn't change, my horizon for book genres just grew, at first I was only into Horror and Paranormal but when I've reached my teenage years I started reading YA Contemporaries and Romance and now I'm trying to read books that are in the Fantasy/Dystopian setting, which I'm not a fan of but there are some books that I like under this genre. I would love to try reading Classics and any Historical Fiction.
4. How often do you buy books?
Monthly(?), sometimes I go crazy and buy a lot of book in one month. I limit myself from buying a lot of books lately because I have a huge pile of TBR books which is over 150+. Sometimes when I have second thoughts about a book I usually download the eBook version of it first and read the first few chapters and if I like how the story goes I'll buy the physical copy and if I don't I'll finish reading it in eBook format. And I'll be feeling proud of my self for not wasting money.
5. How do you react when you don't like the end of a book?
*SIGH* I just… I don't know, I'll probably sit at a corner and let it sink in(if it does). Or I might pick up my favorite book and reread it, I'll just do whatever to keep my mind off of it. 😀
6. How often do you take a sneak peak at the end of the book to see if there's a happy ending?
This is so me, whenever I'm rooting for a couple to end up together or if I want to know if my favorite character will die. I'm guilty!! But sometimes I just let the story itself lead me towards the end.
If you want to do this, feel free and don't forget to comment the link below so I can read your answers. 🙂
P.S. This is a tag that was created in the Booktube community.(?)